I hate unpicking.  You can call it all the cute names in the world like reverse stitching, but I still hate it.  I only ever unpick stuff if it is critical.  If it's just a little bit wonky and I can live with it and it doesn't cause other problems, then it stays.   I'd rather try and do it right the first time, which might take a bit longer but it saves time if you don't have to unpick stuff.
And if there's anything I hate more than unpicking, it's unpicking quilting.  I never unpick quilting.  I always do a test piece so tension and stuff is sorted out before I start on the real quilt. 
All of this works great on my quilts.  Not so much when I'm working on other peoples quilts.  Like this one:
This one was made by a friend and I am quilting it for her.  She had it pinned and ready to go. 
I knew I was in trouble when I looked at it -  the middle of the quilt is all on the bias, and there are 2 borders added – the narrow navy and the wider red floral.  The borders were wavy wavy wavy.  I undid and redid the pins and hoped I could quilt out a few little puckers.  No such luck – it all bunched up and there was no way I could quilt it flat.  Bugger.
So it ended like this:
More unpinning.  And the quickest way to unpick long straight seams?  Rotary cutter.  Not for the faint hearted, but easy enough if you are careful – you just press the blade against the stitches while you pull the fabric away. 
But wait, there's more: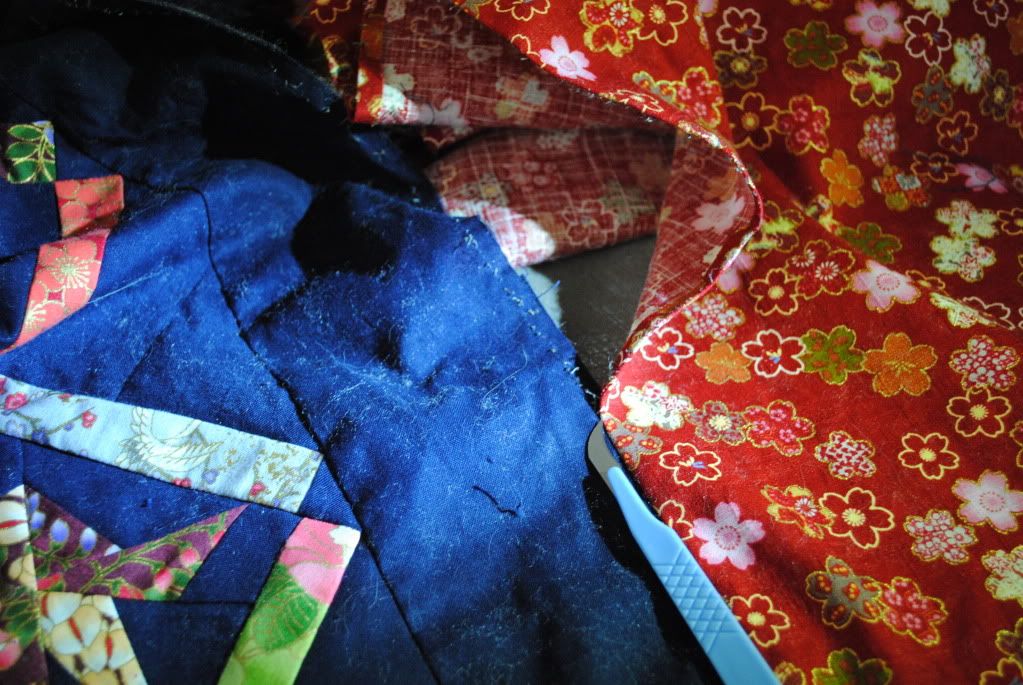 Yes, I had to pull the borders off too.  I starched the quilt middle, to help stabilise the bias and stop it stretching too much.  Starched all the border pieces and pressed the crap out of them so they wouldn't stretch either.  I like that blade for unpicking – it just slices through the stiches.  All the fuzz on the navy is from the bamboo batting – it's like velcro, sticks to everything.  It doesn't beard through the fabric like some polyester battings.
I finally managed to get all the borders back on – on most of the pieces I have cut off an extra inch of fabric, so they were way to long to start with. 
So that's where I'm up to.  Top is ready to be pinned.  Again.  I have to fix the back too – it's not quite big enough so I have to add to it.  And add more batting.  I might just get people to give me their tops and pin them up myself – it might be quicker in the long run.
And the moral is:  It could all be avoided if it had been done properly the first time.  Sigh.