To say I am not the athletic type is an understatement.  I walk (sometimes) for exercise, but that's about the limit of my interest in sports.
Part of the leisure and recreation unit that I had to complete this week (my last subject! an elective!) were two activities I was dreading:  Lawn Bowls and Bush "Walking".  The lawn bowls was not too bad, but really, it just seems so pointless to me.  Trying to hit a little white ball at the other end.  With a big wobbly ball that doesn't roll straight.  I know lots of people enjoy it, but it's not for me.  I think the real attraction is the cheap alcohol that is served in the bowls clubs myself.  There are always people in there.
When I read the unit outline, there was mention of a "wilderness experience".  Which made me a little anxious about how much "wilderness" I would have to experience.  Could it be a trip to the botanical gardens?  The local wetlands that are not far from the campus? No.  It was announced that we would be going to Mt Mitchell.  Never heard of it.
We were going on a bus trip to walk on a mountain.  Doesn't sound too bad.  The lecturer looked around the (all much younger and fitter than me) students and claimed that it was an easy walk of about 3.5 km, so we would walk up, eat our lunch and enjoy the view, then walk back down.  Alarm bells started ringing.
3.5 km – is that the distance one way, or both?  A friend told me that there would be leeches.  I am not very fit, my exercise walking consists of 30 minute sessions on a lovely, flat, concreted walking track in the park at the end of my street.  (and I haven't done that for a while, either).  Plus I get motion sickness on busses and trains.  Not good.  Despite my misgivings, off I went to try and enjoy the "wilderness" experience.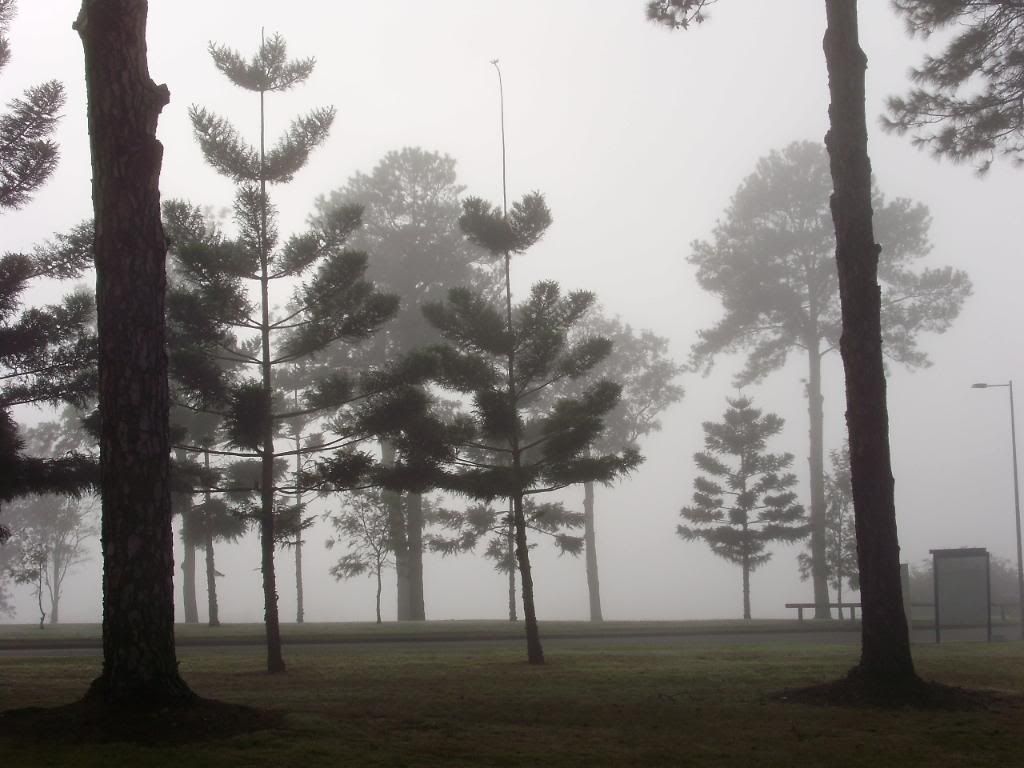 The weather didn't look too promising in the morning – thick fog everywhere.  This was the view at the campus (on a clear day you can see the Brisbane airport and Moreton Bay from here, it's on a big hill. That I drive up).  At least it wasn't raining, I consoled myself.  I took a travel sickness tablet, got on the bus and hoped for the best.  2 hours bus riding later, I was still feeling OK.  Time to start walking.
The thing about walking on mountains is, it's all uphill.  I knew I was in trouble when everyone went past me – which was fine, because I would rather they went in front of me anyway.  The plan was to walk until a certain time, and then turn around and walk back down, so everyone would be back at the bus at the same time.  I kept walking. Slowly.  After about 15 minutes, I'd had enough.  No view could be worth this amount of pain.  The assistant lecturer was walking at the end of the group, and I told her to go on ahead of me.  She advised me to take it slow and have breaks when I needed them.  Not what I wanted to hear, but I continued on, against my better judgement.  Another hour of agonising walking later, and it was time to turn around.  Hooray!  I had to sit down because I was light headed and hadn't eaten all morning.  I gulped down a quick snack, sat for a minute and started back down the track.
It was much easier going down hill – gravity is my friend!  I started to enjoy the scenery and the bits of view that I could see through the trees: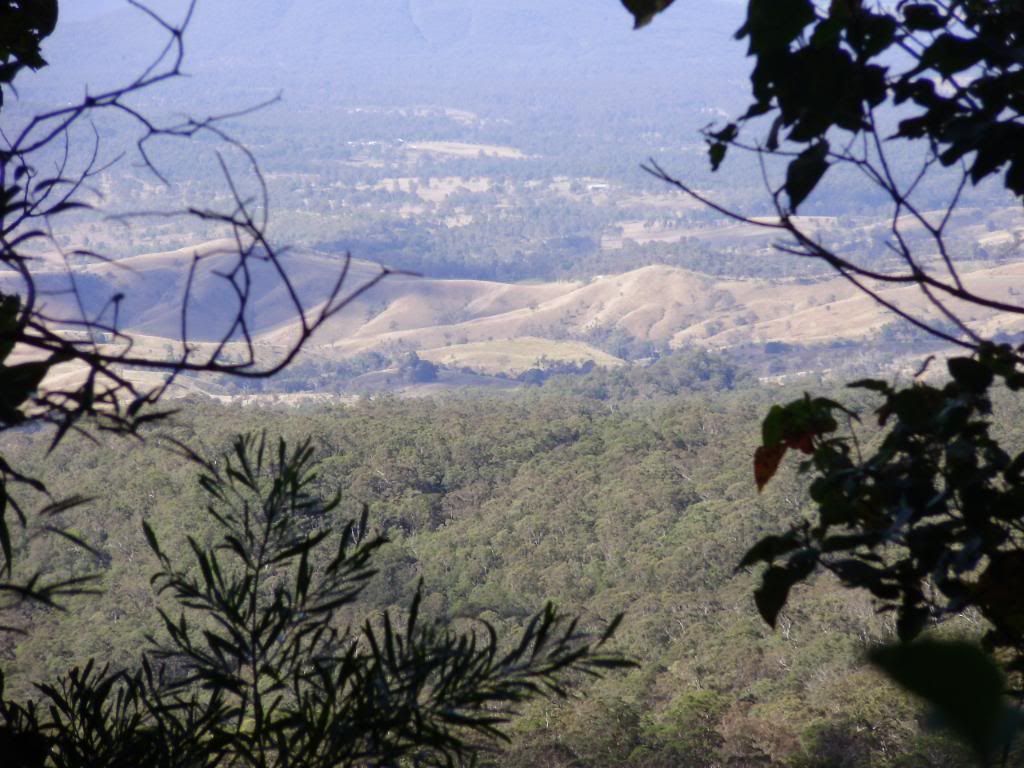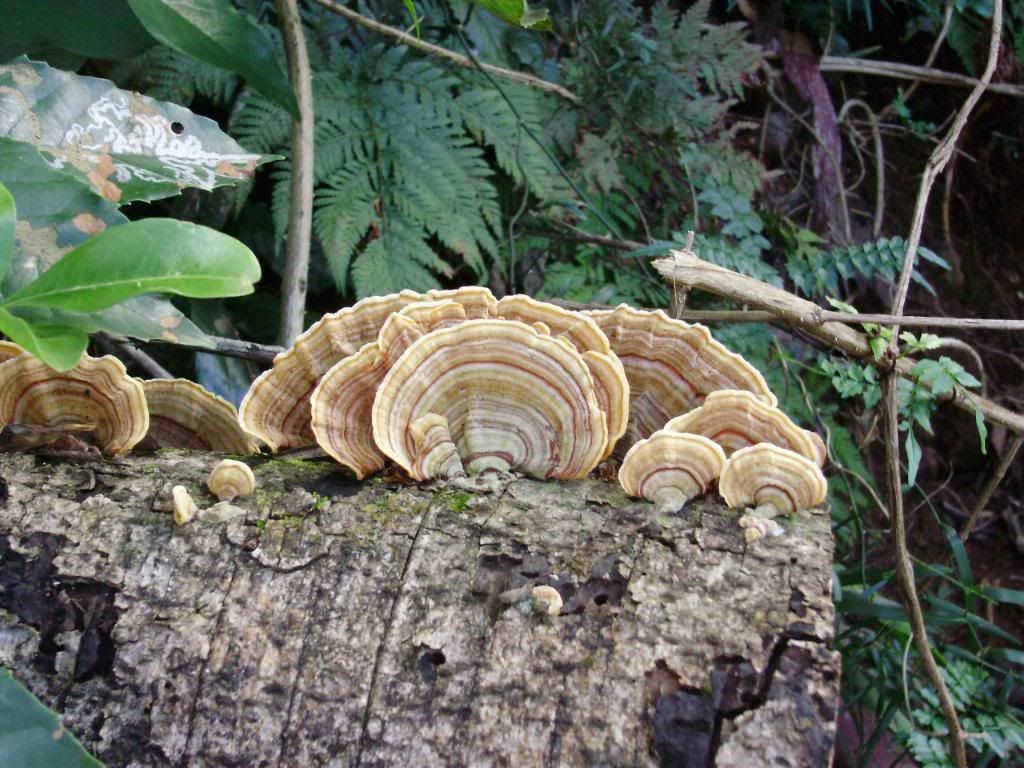 Fungus on a fallen log – they look like shells, so pretty.
The bus trip back was not so pleasant – bus sick despite medication.  Migraine despite medication. It was a long trip.
By the time I got home I was ill – migraine, dehydrated, nauseated, sore feet.  Blech.  Took more medication and lay down with my eyes covered, which usually helps.  Not this time.  The nausea led to vomiting of the projectile kind.  After which I immediately felt much better, so I guess it was all for the best.   According to my pedometer, I walked 8 kms.  After reading the Mt Mitchell link today I am cranky – it's a 10 K  return walk that should take about 4 hours.  
Back in my "natural" environment (my lounge room, with full amenities included) I am working on this: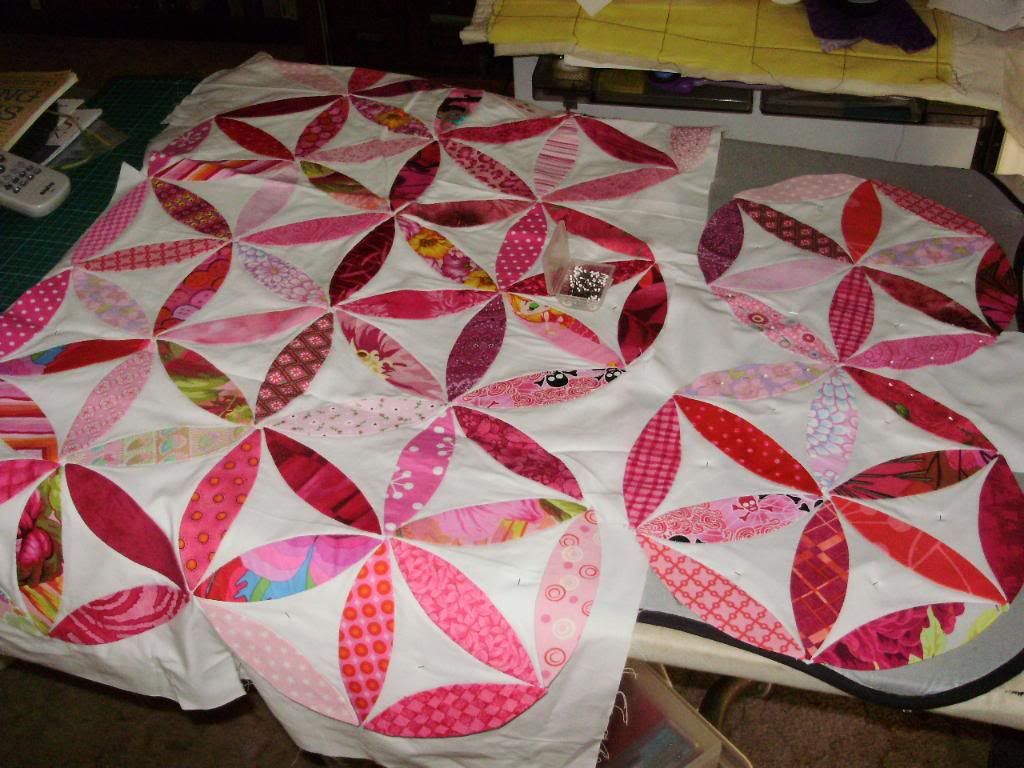 about to add rows 3 and 4, trying to work out if I have enough white background fabric left (I don't think so, unless there is a big piece of it hiding somewhere) and wondering why that is when I bought what the directions said I would need.  Hmmmm.  I suppose white quilters muslin will be the same if I go back and buy some more.  I think I want to add a border to this anyway.